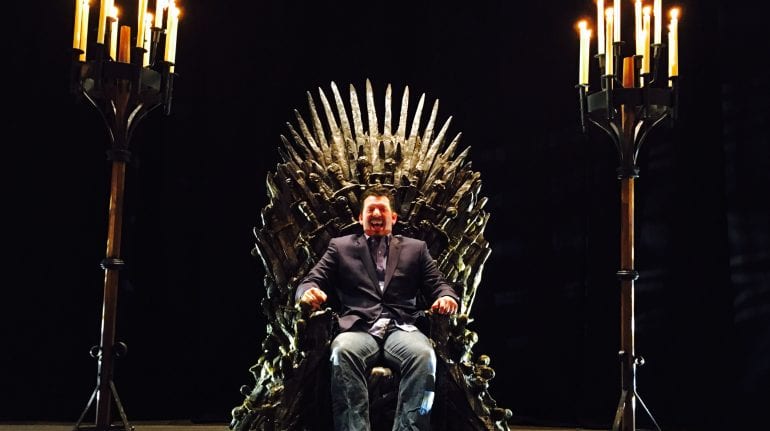 It was certainly a privilege to be invited to the AdWeek and Sky Media Game of Thrones opening Gala on the 18th April at Southwark Cathedral.
Since finishing the new website, I have been working with the marketing team at Sky Media, creating digital invitations and RSVP forms for the upcoming VIP event, but did not expect an invite to boot! (the good wife and I)
Seeing yourself on the Hall of Faces
If that doesn't give you a shudder, seeing your ugly mug up on a giant wall (projected) with hundreds of dead faces, constantly changing and feeling like a once assassinated perp!
As soon as we entered the Cathedral grounds, following the long queue round we passed through two camera cubicles, where you could have your mug shot taken. Being a fan of #GOT we knew what they were up to, but there was no way we were missing out being up on the wall.
They [Sky Media] had certainly set the mood, we were a little giddy with excitement and we had not even entered the Cathedral doors.
Flying dragons, house banners & the all mighty Iron Throne!
Soon as you breach the old wooden doors, there's this loud swooping noise of two dragons flying above (projected on the ceiling) and an air of intrigue as you're presented with a much needed beverage or two!
Either side, there were large house standards draping down for the Starks, the Lannisters, Baratheon, Targaryen and Greyjoy…..
As you look through the Cathedral in the distance you can make out a large huddle of people, two free standing candle pillars either side of the Iron throne. Guess what, (trying hard to contain our excitement) they were taking photos of people sat in the throne! Grabbing a drink and into the queue we hurried.
Nibbles, canapés and several goblets of wine later
We were having a great time mingling, eating and drinking post throne photo, but after the presentation's and the Season 6 sneak peek, we had to go back for more.
Sherrie (the good Wife) suggested that we might be able to get a couples shot, well that was it, we joined the queue again. Just so happens, we were just in time being the last people through.
Great GOT Gala and a fun night out
All nerdy GOT talk aside, the opening Gala was a success from our perspective. There was a buzz in the air and a great deal of excitement from all those whom attended, which was both the prospect of better business/advertising and everything Game of Thrones!
The whole event (gala) was put together with precision and professionalism for which we can attest. I know the marketing team worked extremely hard stitching everything together behind the scenes and it was evident.
Big thanks to Sky Media Marketing team!